blog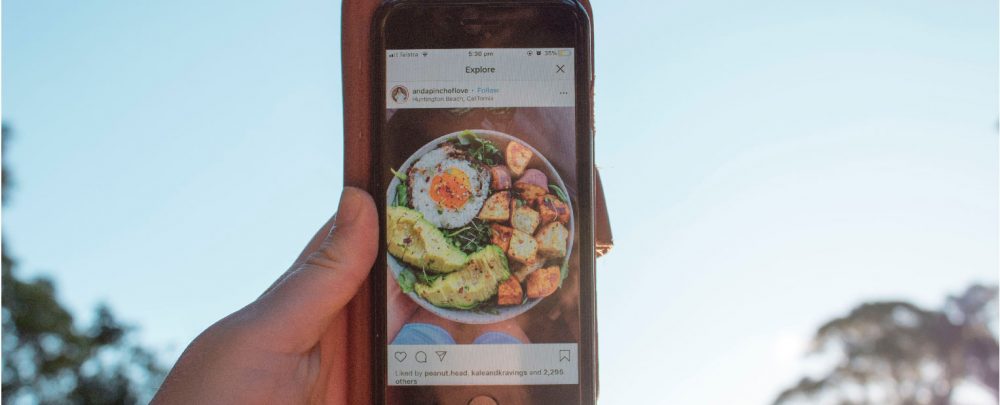 How to Take Great Food Photos for Instagram
Not everyone can get a taste of what you're eating – but they can see it with a perfectly plated food pic.  The #food hashtag on Instagram has over 245 million photos shared by users to tip off friends, remember the moment, or just make their followers salivate?
However, not all #foodstagrams are created equal, and a bad photo won't do your meal justice!  Here's how to make sure your food photos are the envy of your friends' feeds:
For the best lighting, ask to sit outside.

If you go somewhere during the day, ask for a table out on the patio instead of the dining room.  Too many places have "mood lighting" that makes all your pictures look dark and grainy, but natural outdoor light will ensure that you capture your food exactly how it is.
Don't use the flash – borrow a friend's phone instead.


If you're dining after sundown, leave your camera flash off and ask a friend to lend you their phone.  Turn on their phone's flashlight and hold it above while you snap.  You may have to experiment with positioning your flashlight around your plate to get the most appetizing shine, but it will look much better than a blinding flash.
Work the angles.

Different foods look better from different angles.  Get creative and snap a few photos from different positions around your dish – close up, far out, or bottom looking upward.  A unique shot is more likely to catch people's attention on social networks, so try not to be too basic!
Try a table shot.

If you have too many plates and can't decide which one you want to photograph, go for a classic table shot.  Simply stand up and take a top-down photo of the entire spread – just make sure you do it quickly to not annoy your neighbors!
Don't forget the tags!
When you upload a food photo to Instagram, make sure you @-tag the restaurant in the picture itself.  That way, the restaurant will see your shot and maybe even share it on their own page while giving you credit.  Who knows, you may even get a discount next time you visit!
Along with photo-tagging, there also are hashtags related to the food scene in every town like #TasteTheSix (Toronto), #HamOntEats (Hamilton), and #VancouverEats.  Look up the popular food hashtags for your city (save them in a Notes file if you expect to post photos often) and include them in your posts so they show up whenever a fellow foodie goes browsing through their Explore tab.