Menu for Golden Coconut Thai and Vietnamese in Fergus, ON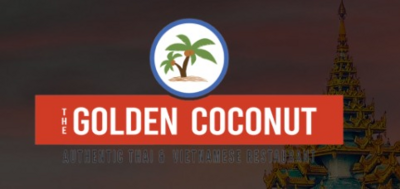 Contact:

Known for:

Small plates

Good for kids

Wi-Fi

Casual

Cozy

Coffee

Healthy options

Lunch

Good for groups

Family-friendly

Outdoor seating

Staff required to disinfect surfaces between visits

Mask required

Staff wear masks

Accepts reservations

High chairs

Restroom

Seating

Wheelchair accessible entrance

Wheelchair accessible parking lot

Wheelchair accessible restroom

Wheelchair accessible seating

Identifies as women-owned

Dessert

Dine-in

Popular Dinner

Read more

Small plates

Good for kids

Wi-Fi

Casual

Cozy

Coffee

Healthy options

Lunch

Good for groups

Family-friendly

Outdoor seating

Staff required to disinfect surfaces between visits

Mask required

Staff wear masks

Accepts reservations

High chairs

Restroom

Seating

Wheelchair accessible entrance

Wheelchair accessible parking lot

Wheelchair accessible restroom

Wheelchair accessible seating

Identifies as women-owned

Dessert

Dine-in

Popular Dinner

Read more
Join us in Fergus and experience the Golden Coconut Thai and Vietnamese way, today. With great Canadian food like the Outdoor seating,Staff required to disinfect surfaces between visits,Mask required,Staff wear masks,Accepts reservations,Casual,Cozy,High chairs,Restroom,Seating,Wheelchair accessible entrance,Wheelchair accessible parking lot,Wheelchair accessible restroom,Wheelchair accessible seating,Identifies as women-owned,Coffee,Dessert,Dine-in,Popular Dinner,Healthy options,Lunch,Small plates,Good for groups,Good for kids,Family-friendly,Wi-Fi, our tasty drinks, amazing service and the experience to tie it all together, we're sure to leave you with a lasting memory! Check out our restaurant menu or call us at (226) 383-3111!
Website
Payment Options
Credit, Debit
Market Street Cafe
(0.01 km)
The Goofie Newfie
-
Canadian
,
North American
(1.76 km)
Hooligans Cafe
(4.2 km)
The Brew House on the Grand
-
American
,
North American
(6.47 km)
Underground Kitchen
-
Indian
(7.05 km)
Towns near Fergus
Elora, Ontario
(5 km),
Centre Wellington, Ontario
(8 km),
Alma, Ontario
(11 km),
Maryhill, Ontario
(19 km),
ESSO, Ontario
(20 km),
Rockwood, Ontario
(21 km),
Hillsburgh, Ontario
(21 km),
East Garafraxa, Ontario
(21 km),
Grand Valley, Ontario
(22 km),
Grand Valley, Ontario
(22 km),
Kenilworth, Ontario
(25 km),
Amaranth, Ontario
(25 km)
Want a specific cuisine? Check out our best lists for
Italian
,
Asian
or
Mexican
in Fergus. Dietary need? Let us show you all the
vegan
,
gluten free
or
vegetarian
options. Search Sirved for things like
pizza
🍕,
tacos
🌮,
burgers
🍔,
sushi
🍣 and more. Need just a
kids menu
or
drink menu
? Sirved categorizes our menus to make exploring easier.