Symposium Cafe Restaurant Woodbridge Menu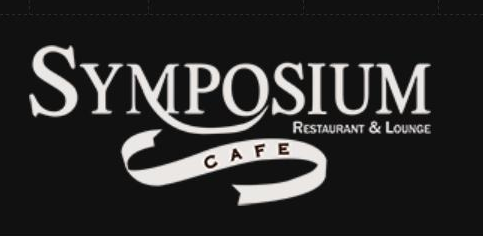 Symposium Cafe Restaurant Woodbridge
Symposium Cafe Restaurant Woodbridge
NON-CONTACT
options available
Open:

08:00 AM - 12:00 AM (EDT)

| | |
| --- | --- |
| Monday | 8:00 AM – 12:00 AM |
| Tuesday | 8:00 AM – 12:00 AM |
| Wednesday | 8:00 AM – 12:00 AM |
| Thursday | 8:00 AM – 12:00 AM |
| Friday | 8:00 AM – 12:00 AM |
| Saturday | 8:00 AM – 12:00 AM |
| Sunday | 8:00 AM – 12:00 AM |

Cuisine

Features

Dietary

"MEAT" AND POTATOES
Chicken Wings and Fries
One full pound of plump roasters wings with your choice of sauce. 1190 Cals.
Fish and Chips
2-Piece English Style battered Haddock fillets. 1400 Cals. Add a third piece for an additional charge (560 Cals).
Chicken Tenders and Fries
Hand-breaded, seasoned chicken tenders with sriracha mayo. 1670 Cals.
Portobello Mushrooms and Fries
Vegetarian. Plump portobello mushroom caps battered and golden fried. Served with sriracha mayo. 980 Cals.
APPETIZERS
Golden Battered Portobello Mushrooms
Vegetarian. Fresh cut Portobello mushroom caps dipped in batter and fried crispy golden. Served with sriracha mayo. 520 Cals.
Chicken Quesadilla
Grilled chicken, green peppers, onions, mozzarella, and cheddar cheese in a tomato basil tortilla. Served with sour cream & salsa. 720 Cals.
BEVERAGES
Pop
Coke (140 Cals), Diet Coke (0 Cals), Ginger Ale (120 Cals), Sprite (140 Cals).
San Pellegrino Sparkling (750 ml)
0 Cals.
Evian Spring Water (330ml)
0 Cals.
Perrier Mineral Water (330ml)
0 Cals.
BOWLS
Teriyaki Chicken Rice Bowl
Succulent chunks of chicken breast, stir-fried in gingery teriyaki sauce, on a bed of basmati rice, vegetables & pineapple with crisp green onion & sesame seeds. 1050 Cals.
DELICIOUS DESSERTS
Fresh Fruit Milkshake
Made the old fashioned way with real ice cream and topped off with whipped cream. Blended with your choice of up to three fruit flavors! 850 calories.
Vanilla Milkshake
Made the old fashioned way with real ice cream and topped off with whipped cream. 780 calories.
Caramel Apple Granny Bar
Caramel and toffee with custard and granny smith apples in a shortbread crust with whipped cream. 290 calories.
Chocolate Milkshake
Made the old fashioned way with real ice cream and topped off with whipped cream. 850 calories.
ENTREES
Chicken Souvlaki Dinner
Garlic, lemon, and oregano marinated chicken on skewers. With salad, rice, and tzatziki sauce. 830 Cals.
Chicken Parmesan Dinner
Served with fries. Lightly breaded chicken breast covered in marinara sauce and mozzarella. With fettuccine noodles. 1690 Cals.
FLATBREAD & POUTINE
Butter Chicken Poutine
Crispy french fries smothered in our delicious butter chicken sauce. 760 Сals.
Grilled Vegetable Flatbread
Vegetarian. Grilled zucchini, sautéed mushrooms & onions, roasted red peppers, seasoned tomatoes, mozzarella & goat cheese with a balsamic drizzle. 610 Cals.
Classic Poutine
A generous portion of French fries topped with traditional cheese curds and beef gravy. 490 Cals.
PASTA
Fettuccine Alfredo
Vegetarian. Fresh mushrooms with al dente noodles tossed in house-made alfredo sauce. 1640 Cals.
Penne Bolognese
Ground sirloin, braised root vegetables, roasted tomatoes over penne noodles with garlic toasted baguette. 1440 Cals.
SALADS
Teriyaki Salmon Salad Bowl
Grilled Atlantic salmon loin with our signature teriyaki glaze, joined by ripe tomatoes, cucumber, broccoli, sliced mushrooms, green onion, pea shoots & crispy wontons on a bed of romaine lettuce. No substitutions will be made for ingredients. 480 Cals.
Caesar Salad
Crisp romaine salad with real bacon bits, croutons & our housemade creamy garlic & parmesan dressing. 430 Cals.
Mediterranean Salad
Gluten-friendly. Crisp romaine lettuce tossed with homemade Mediterranean style dressing; topped with grape tomatoes, cucumber, red onions, Kalamata olives & feta cheese. 340 Cals.
BBQ Chicken Cobb Salad Bowl
Gluten-friendly. Grilled BBQ chicken breast, crumbled bacon, grape tomatoes, hardboiled egg & goat cheese. Served on crisp romaine lettuce. No substitutions will be made for ingredients. 1060 Cals.
SANDWICHES
California Chicken Sandwich
On a gourmet bun. Grilled chicken breast layered with sriracha mayo, guacamole, black beans, cheddar, bacon, lettuce, tomato, red onion, and pickles. 860 Cals.
Chicken Parmesan Sandwich
on a gourmet bun. Tender chicken breast rolled in our housemade breading, lightly fried, and tossed in marinara sauce; topped with sautéed mushrooms, roasted red peppers, and mozzarella. 800 Cals.
SOUPS
Broccoli & Cheddar
360 Cals.
Tuscan Tomato Bean Soup
Vegetarian. Roasted tomatoes, vegetables & hearty beans in veggie broth. 120 Cals.
SPECIALTY COFFEES & HOT BEVERAGES
Vanilla Cafe Latte
170 calories.
Gourmet Coffee
Symposium blend.
Hot Chocolate
200 calories.
Traditional Tea
Tetley orange pekoe tea.
Chai Latte
A sweet and spicy potion of black tea, honey, vanilla bean, and spices. Crowned with steamed milk. 150 calories.
Chai Mocha
Classic chai latte with chocolate. 220 calories.
Vanilla Chai Latte
Chai latte with a vanilla twist. 220 calories.
See why we've been a top favourite Woodbridge restaurant in the Vaughan Ontario community, located directly in the Colossus Centre. Open 7 days a week-early mornings to late nights - menu dining options (full service breakfast and brunch, lunch, dinner, mouth-watering desserts, burgers, seafood, sandwiches, vegetarian options & full bar, beer, wine and great cocktails). You'll be wowed by the distinctive cozy & inviting decor and unique casual atmosphere (gourmet comfort food served in a stylish space with a Renaissance theme). Fully licensed and 90 seats on the best wraparound patio in Woodbridge. Dine-in, takeout, delivery & curbside pickup.
SPARKLY Japanese & Thai
-
canadian
,
american
(0.12 km)
Spin Dessert Cafe
-
english
(0.46 km)
Pizza Pizza
-
italian
,
canadian
(0.48 km)
Panini Italian Sandwiches
-
american
,
canadian
,
italian
(0.48 km)
The Moose and Firkin
-
american
,
british
(0.53 km)
Cities near Woodbridge
Concord, ON
(5 km),
Vaughan, ON
(6 km),
Maple, ON
(6 km),
Toronto, ON
(7 km),
Etobicoke, ON
(7 km),
Thornhill, ON
(10 km),
Brampton, ON
(10 km),
Richmond Hill, ON
(10 km),
Mississauga, ON
(10 km)
Towns near Woodbridge
Kleinburg, ON
(9 km),
Nobleton, ON
(16 km),
Caledon, ON
(17 km),
Bolton, ON
(19 km),
King City, ON
(20 km)
Sirved has 230
restaurant menus for Woodbridge, Ontario
. Want a specific cuisine? Check out our best lists for
Asian
,
Italian
or
Mexican
in Woodbridge. Dietary need? Let us show you all the
vegetarian
,
gluten free
or
vegan
options. Search Sirved for things like
burgers
🍔,
sushi
🍣,
tacos
🌮,
pizza
🍕 and more. Need just a
kids menu
or
drink menu
? Sirved categorizes our menus to make exploring easier.
Frequent searches leading to this page
menu for symposium cafe
,
symposium cafe lunch menu
,
symposium cafe restaurant woodbridge in woodbridge
,
symposium cafe food photos
,
symposium cafe in woodbridge review
,
symposium cafe in woodbridge